The William T. Pecora Award, established in honor of Dr. William T. Pecora, former Director of the U.S. Geological Survey and early visionary of using remote sensing of earth from space, is an annual award presented to individuals and teams that have used satellite or remote sensing applications to make "outstanding contributions towards understanding the Earth, educating the next generation of scientists, informing decision makers or supporting natural or human-induced disaster response." The award is sponsored by the Department of Interior (DOI) and NASA.
Due to impacts and restrictions from the global Covid-19 pandemic, DOI and NASA had a backlog of awards to present in 2022. Among those awards was the 2021 William T. Pecora team/group award presented to AmericaView for "advancing Earth observation education through remote sensing science, applied research, workforce development, technology transfer, and community outreach."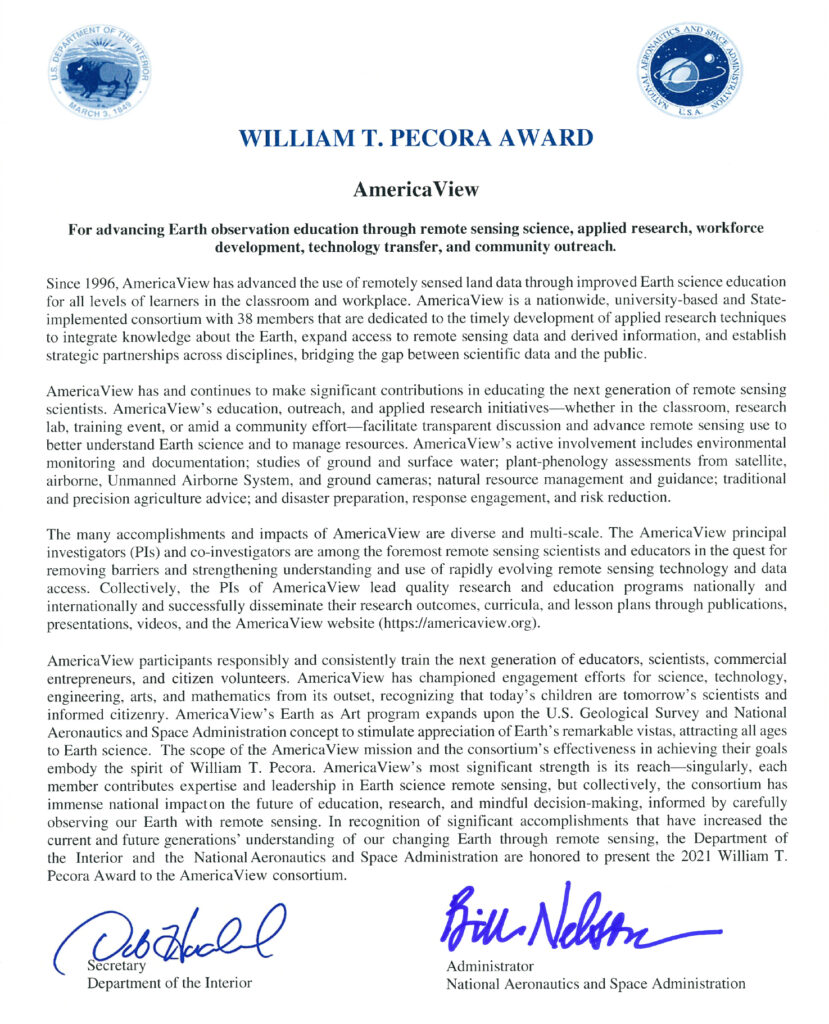 This award represents the incredible work that members of the AmericaView network have put forth since the inception of the program through the OhioView project in the late 1990s. While no single person in the network can claim the responsibility for the award – it was a group effort in its purest form – AmericaView wants to recognize Ms. Roberta (Bobbi) Lenczowski, former AmericaView Executive Director and member of the AmericaView Board of Directors (following an incredibly distinguished career with the National Geospatial Intelligence Agency) for her efforts in nominating AmericaView for the Pecora award.